Who we are
We're a company located in the second region of Chile. We have a wide experience in electric engineering services. Our clients belong to the mining and industrial sectors and are often related to the generation, transmission and distribution of electricity.
We have more than 20 years in the field and our services are of the highest quality. Our clients, both nationally and internationally, can testify that we have been able to fully satisfy their needs in each project.
All of our workers are qualified and have a vast experience working in their respective fields which makes them our most important asset.
Historical aspects of Ingel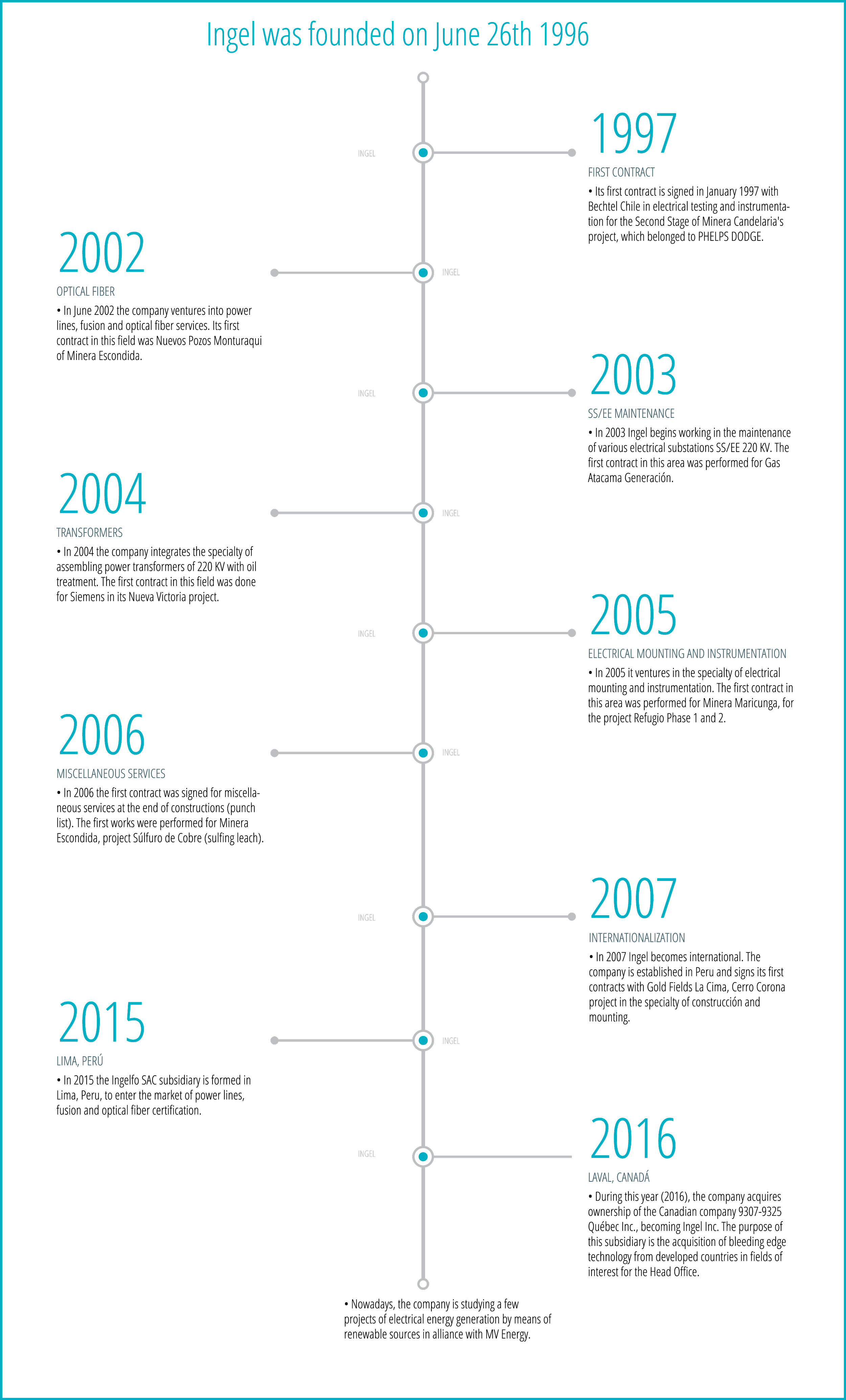 Mission
We are a company that specializes in services of electrical engineering, optical fiber and other fields of high technological content, that seeks the total satisfaction of its clients through the work of its human resource, the use of bleeding edge technology, totally subject to the environmental and security regulations with regards to our workers, equipments and facilities.
Vision
Our dream
• To be recognized as leaders and examples in terms of the quality of service offered by the company.
• To become part of the argentinian and bolivian markets as well as reinforce our presence in the peruvian market.
• To form partnerships with prestigious companies for the execution of projects that involve complementary specialized techniques.
• To achieve the acquisition of bleeding edge equipment and technologies in fields of interest of the company, made in developed countries.
• To strengthen our company on a national level
Our values
• Sustainability
Health and safety are our first priority. Responsibility with the environment. To promote long term relationship with our clients and suppliers.
• Integrity
Do the right thing and honor our commitments.
• Respect
Value transparency, trust, team work and diversity.
• Performance
Continuous search of excellence in what we do. Achieve high results for the business by using our full capacity.
• Responsibility
Respect our commitments. Perseverance in the fulfillment of our objectives with regards to our clients needs.

Q-HSEC Integrated management policy
We are at the final stage in a process of implementation that will allows us to have an integrated management policy, which fits our commitment of offering high quality services to our clients. In this way, we can protect our personnel and people around us, as well as care for the environment.
Compliance with our integrated management system of quality, occupational health, security and the environment is our priority in our offices and with our contractual commitments.
We are proud to offer and promote a safe and healthy working environment. Our high standards certify us as trustworthy company for our clients, suppliers and community.
Through our philosophy of continuous improvement we will continue in this path which has brought us to fulfill our mission and today we can glimpse this in our vision.
BOARD
•Manuel Madrid Aris (Hydraulic Engineer)
•Osvaldo Chacón Figueroa (Construction Engineer)
•Horacio Veragua Ramírez (Electricity Engineer)


Substitutes directors
•Eva Santander Fernández (Comercial Engineer)
•Jorge Marín Mesa (Surgeon Doctor)
•Bernardo Tapia Pinto (Electricity Engineer)


Management structure
General Manager
• Horacio Veragua Ramírez
Electrical Engineer of execution, University of Antofagasta


Engineering Manager
• Andrés Olivares Rojas
Civil Engineer in Electricity, University of Antofagasta


Administration and Finance Manager
• Carlos Astudillo Hernández
Commercial Engineer, University of Concepción
Msc. Economics, University of Quebec in Montreal (Université du Québec à Montréal (UQAM), Canadá)